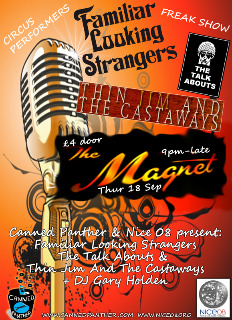 O lo que viene a ser lo mismo. FLS golpean Septiembre (también Octubre)
La Superbanda de Liverpool continúa imparable. Su concierto en The Magnet será grabado para la Iceland TV Plus (Islandia) Esperemos que pronto vengan de gira española.
Familiar Looking Strangers Coming Gigs
BBC radio Merseyside
16 sep 2008, 02:30
Billy Butler, BBC, Liverpool, Liverpool, Northwest L1
Coste : FREE
Interview and acoustic songs with FLS and Billy Butler!
The Magnet
18 sep 2008, 20:00
45 Hardman Street, Liverpool, Northwest L1 9AS
Coste : £4 adv
Bumper
23 oct 2008, 20:00
Hardman Street, Liverpool, Northwest L1
Coste : £TBA